Happy Thursday, friends.
Thankful Thursday
is truly my favorite post to do each week. It is so important to have a grateful heart, over the
BIG
and more importantly, the
small
things.
This week I am thankful for:
♥ Mayspiration :) I am so excited to share with you inspirational and motivational stories this entire month! Let the inspiration begin! Shine on, friends.
♥ a wonderful house warming party. A lot of our friends and family asked if we were registered anywhere, but honestly, there was nothing we could think of that we needed immediately for the house. The things we still
do
need are way too expensive to ask any one person to buy (ie an automated pool cleaner, a fence, etc)
SO
, we had a
fence fund
donation box set up. Yup, that is right. We took donations at our house warming party. Haha. We want to fence in our back yard as soon as possible so we can bring our furbabies home full time. As of right now they are in between our house and my Dad's (who is thankfully less than 5 minutes away).
♥ a husband who truly is my partner in every sense of the matter. We work as a team. I know many women that have to constantly nag their husbands to help with house work. I am not saying I don't have to "nag" Ryan sometimes, but I am saying he goes above and beyond on many measures. I know I just mentioned this on my Sunday post, but, an example is last Friday I was dreading cleaning everything in preparation of our house warming party. I had only asked Ryan to clean the pool area, and clean the bathrooms. Well, while I was out and about running errands he did
all
the cleaning that I had wanted to get done except mop the kitchen floor. He did laundry, put laundry away, did more laundry, and put more away. Cleaned the kitchen, did the pool, bathrooms, swept, almost all of it. And that took so much pressure off of me. He did in two hours what would have taken me much longer (because I get side tracked easy).
Thank you for being amazing
.
♥ The Great Strides for Cystic Fibrosis walk was a success. My youth pastor has 3 of his 4 kids that are battling CF. Our entire church family surrounds them ever year as we Walk for the Walkers for the CF walk.
♥ great friends who are always willing to help with whatever needs done.
DaisyJo
rushed over after we completed the Great Strides for CF walk and helped me bake for the house warming party. She made yummy fruit and marshmallows with chocolate drizzled over them. Mmm. Emily also made it over early (and stayed late) to help with everything. I am so blessed in the friends department. I pray everyone has a true friend in their life.
♥ events like the one we had on Saturday in which residents could bring in expired human and animal medicine into their local police departments and drop them off. This was awesome for me because I had quite a bit stored up and I never know how to "properly" dispose of them. I hate flushing stuff down the toilet.
♥ that I am able to maintain civilized relationships with my exes and genuinely want whats best for them. I pray that they find the same happiness I have.
♥ My furbabies.
♥ a semi light week at work. This will come in handy later for me this week as I am working on my two days off to cover for my friend so she can enjoy her neices graduation and graduation party.
What are YOU thankful for this week? Link up! Would love to have you!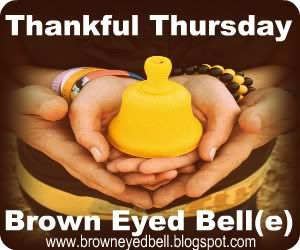 I am linking up with some other Thankful Thursday's this week:
The Fontenot Four
,
Kate Says Stuff
,
A Punk, A Pumpkin, and a Peanut
,
Black Tag Diaries
, &
First Day Of My Life
.