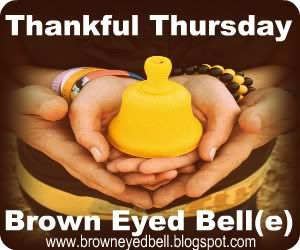 This week I am thankful for:
♥ all the wonderful souls that participated in Mayspiration
Kyle from Thirst Tee's
Adriel Bloggers 4 Birth Kits
Jessica & Smell the Roses
Ruth & The Corbin Story
Ashley & Simplifying
Rachel & Proverbs 31 woman
Sara & Locks of Love
Laura & Sponsoring a Child
Elena & A Caregivers Story
Jen & Awake & Alive
My sister :)
Gina & Invest Poem
Mandy & Proverbs 31 Woman
Casey & Scars
Thank you ladies and gents for sharing a bit of inspiration and motivation with us!
Now, I hope you will link up and share how you are motivating or inspiring! Also, feel free to link up for the regular thankful thursday post. You can grab a TT button from the top, and there's a few mayspiration ones you can choose from.
I am linking up with some other Thankful Thursday's this week:
The Fontenot Four
,
Kate Says Stuff
,
A Punk, A Pumpkin, and a Peanut
,
Black Tag Diaries
, &
First Day Of My Life
.
What are YOU thankful for this week?